LIFE GROUPS…
Don't Just live Life…Experience Life Together with others!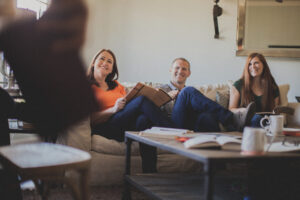 We believe the early church had the correct pattern for growing in the Lord. We feel that smaller groups gathered informally around the table or couch really enable people to share together, go deeper, and grow in the Lord together more freely. Plus, our desire is that lifelong friendships would develop and help people navigate life's journey together.
LifeGroup Opportunties:
Sunday Nights at 5:30p (no childcare)
Wednesday Nights at 7p (limited capacity)
Thursday Nights at 6:30p
Friday Nights at 6:30p
Please Sign Up Below to let us know of your interest in being in a Life Group.
________________________________________________________________________
SOME LIFEGROUPS HAVE A MIX OF IN-PERSON & ZOOM OPPORTUNITIES.
LET US KNOW THE EVENING/FORMAT YOU PREFER, AND WE'LL GET YOU CONNECTED.