OUR PASTORS, STAFF,
& LEADERSHIP
________________________________________________________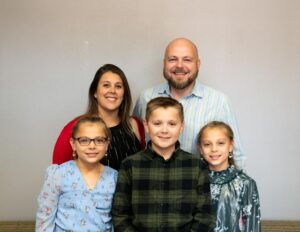 Michael Roepke, Pastor
Tucker, Mykenzie, Madison
Michael and His wife, Rachel, came to Hutto in March 2008. They love the
family that makes up New Hope Christian Church, and thoroughly enjoy
engaging with other people and families. Michael comes from a wide
background of Children's, Youth, Family and Camp Ministry as well as leading worship.
He enjoys the calling that God has placed on Him to be Pastor at New Hope.
Rachel faithfully serves alongside Michael at the church, but also works as
an Administrator in a local School District.
Michael and Rachel have been married for 16 years, and have one son, Tucker, and
twin daughters, Mykenzie and Madison. They would love to get to know you and
experience the journey of this life together with you, so come visit us sometime.
Contact Michael at: newhopehutto@yahoo.com
________________________________________________________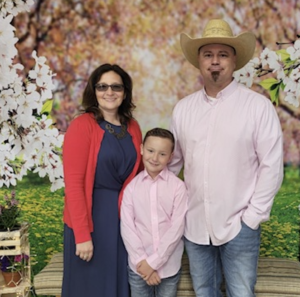 Jeremy Harris, Youth Ministry
Jeremy has such a deep desire to Impact the youth of Today and to help them navigate life through a relationship with God. He has assembled a great group of sponsors who lead our Students in growth in the Lord. Jeremy and his wife, Chasnea, deeply care about each student and helping them in every way through the adolescent years. They bring their love for God and Student and their wealth of wisdom and background experience into play as they guide our Students. They are joined by their son, Cason.
Email: newhopehutto@yahoo.com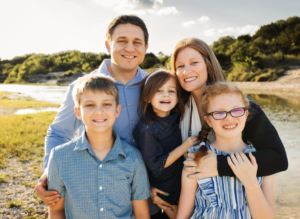 Kristie Campo, KidzClub Ministry
Kristie has an education background as a Kindergarten teacher, and she combines her love for God with her love for educating children, and incredible things happen on Sunday Mornings during KidzClub. She leads a fantastic team of volunteers to help the Bible come alive for our children each week! She is joined by husband, Sam, and their children, Hudson, Kaylee, and Emma.
Email: newhopehutto@yahoo.com
________________________________________________________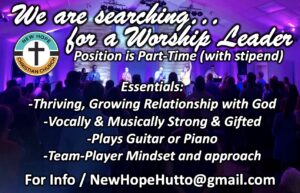 Worship
Leader.
We are looking to bring on staff a Part-Time Worship Team Leader. We are looking for a Scripturally-grounded, Charismatic, Talented, Humble Individual to lead our established worship team. The person must be strong vocally, musically, and lead with an instrument–guitar or piano. Send Resume & link to videos of yourself leading worship to newhopehutto@gmail.com. Contact Pastor Michael Roepke for more information, job description, etc.
________________________________________________________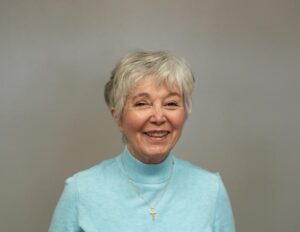 Shirley Shelor, Secretary


Shirley Shelor has been attending New Hope as part of our church family, and she retired after a long career, and has taken the lead as our Church Secretary. She is always willing to help in this capacity, and she keeps everything on track. You can reach out to her at the email address below, or stop by the church and meet with her in person.
Contact Shirley at: NewHopeHuttoOffice@gmail.com
________________________________________________________
OUR LEADERSHIP