________________________________________________________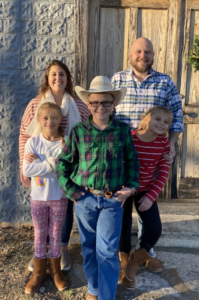 (Rachel, Tucker, Mykenzie, Madison)
Michael and His wife, Rachel, came to Hutto in March 2008. They love the
family that makes up New Hope Christian Church, and thoroughly enjoy
engaging with other people and families. Michael comes from a wide
background of Children's, Youth, Family and Camp Ministry as well as leading worship.
He enjoys the calling that God has placed on Him to be Pastor at New Hope.
Rachel faithfully serves alongside Michael at the church, but also works as
an Assistant Principal at an area High School.
Michael and Rachel have been married for 14 years, and have one son, Tucker, and
twin daughters, Mykenzie and Madison. They would love to get to know you and
experience the journey of this life together with you, so come visit us sometime.
Contact Michael at: newhopehutto@yahoo.com
________________________________________________________
Associate Pastor
of Students
(Position Open)
We are currently searching for a Full-Time Student Pastor to come and join our team in ministry serving our students from pre-elementary to High School. If you are interested or know of someone, please reach out to us via email at newhopehutto@Yahoo.com
———————————————————————
New Hope is a family-oriented church, and are looking for someone to lead our student ministries and assist with other Pastoral duties, as necessary. The position will require ministry to students from early childhood through High School, but the main emphasis of this position will be on youth. We have a great potential of students within our church, and we are also striving to impact the children, youth and families in the surrounding neighborhoods and communities. Our desire is to make a greater impact with the Gospel as we mature and disciple those who currently attend New Hope, while taking a greater role in reaching out to families and others to introduce them to Jesus and the Gospel.
We are looking for a self-starter, driven individual with a humble, servant-heart toward children, youth, and their families. The Associate Pastor must have a people-oriented personality. The person shall have an unwavering love for Jesus and Scripture and a strong desire to work with students of all ages, but with a special gifting toward youth. They must have experience in building, growing, and maturing student ministries in the local church while maturing the students on a personal level. The successful candidate should also have experience in developing and leading volunteer teams, ministries, and events and work well with budgets. Must be a team-oriented person and be desirous of growing in their own spiritual life and also in their ministry calling. The person shall demonstrate creativity in thought and practice and have a working knowledge of design elements, media, technology, and mass communication. They shall possess a depth of scriptural knowledge and strong leadership, organizational, timeliness, and communication skills. It is preferred that the candidate have a ministry degree and/or strong background in church ministry within the local church. We would love to have the Associate Pastor come in, plant roots, and grow with the church for many years to come.
We are ready to bring on the driven individual who will be passionate about making a difference in the lives of the young generation with the Gospel knowing it will affect all generations.
Send Resume' and Cover Letter to Michael Roepke, PO BOX 669, Hutto Tx 78634, or email to: newhopehutto@yahoo.com. All questions can also be referred to Michael Roepke at newhopehutto@yahoo.com.
Contact for detailed job description, salary, etc.

________________________________________________________
Worship Leader
(Position Open)
We are currently searching for a Part-Time Worship Leader to come and join our team to lead our church family in worship. If you are interested or know of someone, please reach out to us via email at newhopehutto@Yahoo.com
———————————————————————
We are looking for the right person to come in and take the lead on our growing, talented worship team. We currently have a blended style of worship utilizing contemporary Christian Music, while balancing it out with a traditional hymn.
The ideal candidate is a self-starter who loves the Lord and the gift of music, and who has a passion for leading others into worship of the Lord through music and worship arts. The person must possess a strong foundation in the Word of God and shall have an unwavering love for Jesus and scripture. They need to have a strong ability to see the gifts and talents in others and utilize those in orchestrating a worship experience where each person in attendance is able to worship. They must be a humble, team-player, and should have experience in leading worship and putting together and managing worship teams, rehearsals, administrative duties, etc. The right person will have a vast musical background and be able to lead worship vocally. In addition, the person must possess the talent and ability to accompany themselves on the guitar or piano. Also, knowledge in the areas Audio/Visual, Sound, Lighting, Media, and/or Online Worship experience recommended.
We are eager to bring the driven individual as a part of our team to lead worship for us and help us carry out the Vision that God has given to the church at New Hope.
Send Resume', Cover Letter, and either an audio or video link (preferred) of you leading worship to Michael Roepke at newhopehutto@yahoo.com. Contact for detailed Job Description. Questions can also be directed to newhopehutto@yahoo.com.
Contact for detailed job description and compensation.
________________________________________________________
MICHAEL ROEPKE, Pastor/Elder
NEIL ROZELL, Deacon
TIM BOSECKER, Deacon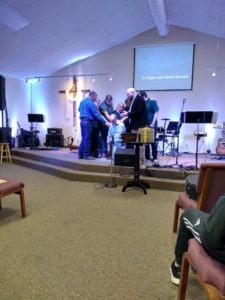 (Ordination of our Deacons.)