________________________________________________________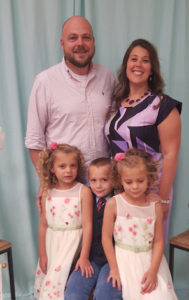 (Rachel, Tucker, Mykenzie, Madison)
Michael and His wife, Rachel, came to Hutto in March 2008. They love the
family that makes up New Hope Christian Church, and thoroughly enjoy
engaging with other people and families. Michael comes from a wide
background of Children's, Youth, Family and Camp Ministry as well as leading worship.
He enjoys the calling that God has placed on Him to be Pastor at New Hope.
Rachel faithfully serves alongside Michael at the church, but also works as
an Assistant Principal at an area High School.
Michael and Rachel have been married for 13 years, and have one son, Tucker, and
twin daughters, Mykenzie and Madison. They would love to get to know you and
experience the journey of this life together with you, so come visit us sometime.

Contact Michael at: Michael.Roepke@newhopehutto.org
________________________________________________________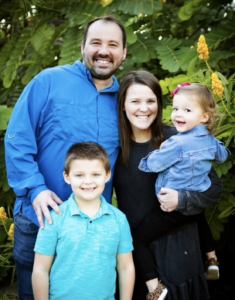 Worship Leader and
Youth/Children's Ministries
(Bethany, Broc, Berkleigh)
Jonathan and Bethany met when they were both growing up in Lubbock Texas where their dads both served on staff at First Baptist Lubbock. They reconnected after a number of years and spent the better part of 10 months getting to know each other and realized they were meant to be and were married right in the middle of the quarantine of 2020. They have 2 wonderful kids, Berkleigh and Broc, and are so happy to have found each other in Gods perfect time.
Bethany is a teacher at a local school and came to us from Tyler Texas where she graduated from UT Tyler and worked in the medical field until she moved here and was called to teaching.
Jonathan is on staff as Pastor of Worship and Student Ministries. He started serving New Hope Christian church in September of 2017 and began as pastor of Student Ministries in 2019. He grew up in Lubbock Texas and has been called to lead worship ever since he started when he was in high school in the church he grew up in. It's such a joy for him to serve here at the family of New Hope and he looks forward to the growth in both spirit and the life of our church.
Contact Jonathan at: Jonathan.Stege@newhopehutto.org
________________________________________________________
MICHAEL ROEPKE, Pastor/Elder
JONATHAN STEGE, Worship Leader
NEIL ROZELL, Deacon
TIM BOSECKER, Deacon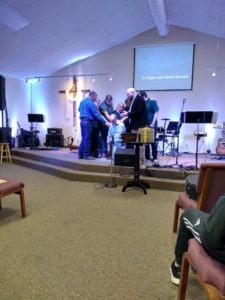 (Ordination of our Deacons.)