________________________________________________
We know the journey of life that Adults are traveling down right now, and therefore we strive to be a source of spiritual growth and encouragement as we travel the path together. We offer opportunities for our Adults of all ages to come together through different opportunities to build relationships and grow in the Lord.
Check our Events Page for all our Adult & Family Events.
Opportunities for the Adults include the following:
Ladies & Men's Ministries. We have ministries offered specifically for the Ladies and Men in our church. They meet for opportunities to share, grow, and serve together. Gatherings are informal and specific to the needs and interests of the ladies and men in our church fellowship.
Events. There are many times during the year that the Adults get together. We have several dinners and parties throughout the year that provide a time for just the adults to grow in our friendships. We love food, people, and conversation. We also have Sports Teams during those seasons and enjoy Volleyball and other sports and activities together on site.
Family Relationships. Please understand that we highly value the family relationship. We know the priority that God placed on the family, and we honor that. We want to do everything possible to strengthen the families of New Hope Christian Church. We genuinely care about you and your family, and if there is anything we can do to help your family grow stronger, please contact us and let us know.
Weekly Life Groups.
We have Life Groups that meet together various nights of the week in homes during September – May. For a current listing, contact us or check the church foyer.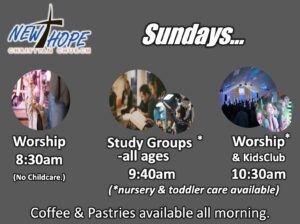 For more information, contact us at 512-759-2665 or newhopehutto@yahoo.com