Welcome to our Church Home!
All About God. All About People!
HOME is a special place—where you live, share life with family, where you grow, laugh, and cry. Home is a place you long to be and where you belong. At New Hope, you will find your church "Home". You will feel a warm welcome and find New Hope as a place for growth in God and in relationships with each other.
Acts 2:42-47, "They devoted themselves to the apostles' teaching and to fellowship, to the breaking of bread and to prayer. Everyone was filled with awe at the many wonders and signs performed by the apostles. All the believers were together and had everything in common. They sold property and possessions to give to anyone who had need. Every day they continued to meet together in the temple courts. They broke bread in their homes and ate together with glad and sincere hearts, praising God and enjoying the favor of all the people. And the Lord added to their number daily those who were being saved."
________________________________________________________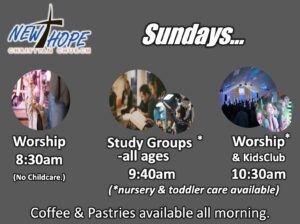 8:30a & 10:30a* / Worship
(*nursery/toddler care available)
________________________________________________________
________________________________________________________
________________________________________________________
9850 S. FM 1660, Hutto TX 78634
(Mailing: PO Box 669, Hutto TX 78634)
OUR CURRENT WEEKLY SCHEDULE
–SUNDAYS–
8:30a & 10:30a* / Worship Gathering
9:40a* / Classes-Studies for all ages

10:30a* / KidzClub Worship Available
(*nursery/toddler care available)
5:30p / Aguilera LifeGroup
6p / Meschnark Singles LifeGroup
Sundays at 1pm / Iglesia Christiana Luz De Vida
Worship Services
–MONDAYS–
7p / ZOOM Prayer Gathering
Zoom Meeting ID: 822 6669 6814
Passcode: 782240
–WEDNESDAYS–
6pm / Youth Group Gatherings
7p / Bosecker Life Group
–THURSDAYS–
6:30p / McKean – Hammond LifeGroup
–FRIDAYS–
6:30p / Roepke LifeGroup