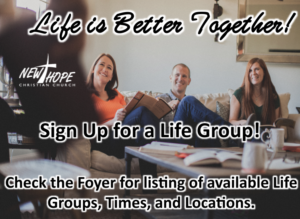 Don't just live Life… Experience Life Together with your church family.
We believe the early church had the correct pattern for growing in the Lord. While we still currently offer Studies at church, we feel that smaller groups gathered informally around the table or couch really enable people to share together, go deeper, and grow in the Lord together more freely. Plus, our desire is that lifelong friendships would develop and help people navigate life's journey together.
CHURCH-WIDE STUDY ONLINE VIA ZOOM
Click Link Below
WEDNESDAYS AT 7PM / STUDY OF "I AM"
________________________________________________________
LIFE GROUPS…SIGN UP FOR A GROUP.
We gather in homes for food, study, fellowship,
Our LIfeGroups are meeting via Zoom right now. Contact us to join a group online.
The early church wasn't just a gathering at a church, but they grew in the Lord together by building relationships together. They shared together, studied together, worshipped together, celebrated communion together, ate together, and did life together. That's what we want for our church families…to know that Life is Better Together. We want you to share life with others at church, in homes, at restaurants, football games, etc.
Wednesday Group / 6:30pm (meets bi-weekly)
________________________________________________________________________