LINK FOR WEEKLY CURRICULUM & VIDEOS / JUNE 16, 23, 20
Password: LETSBOLT
Week 3 Coloring Page & Origami Craft Instructions.
Coloring Sheet_Day 3
.
Day 3_Heart
LINK FOR 6PM ZOOM GREETING GATHERING / JUNE 16, 23, 30
https://us02web.zoom.us/j/85100746984
Meeting ID: 851 0074 6984
SUPPLIES BUCKET
Please Use Supplies on the correct weeks.
Here is what's in your bucket to use for each session:
June 16:
-Craft / Parable of the Sower & Seed Sticker Scene (2 pieces bigger scene)
-Craft / Jesus Lights the Way tissue Craft (3 pieces, package craft, blue foam sheet, gold cross)
-Everyone Take Away / Lamp Unto My Feet GlowStick
June 23:
-Craft / Trust Magnet Craft (craft kit and magnet separate)
-Everyone Take Away / Jesus in My Heart Friendship Bracelet
June 30:
-Craft / Fisher of Men Craft
-Craft / Jesus calls Matthew mini sticker scene (2 pieces smaller scene)
-Everyone Take Away / Sticky Fish on a String (2)
The other items in here are just for fun and the kids can enjoy them at any time:
-Beach Balls -Bubbles -Water Squirter -Dog Tag Necklace
-Freezer Pops -Bar -Rice Krispie
**The Crafts we have provided are in addition to the curriculum, and you may do them at the end of the VBS night.

Post Photos to Facebook on those nights as we interact there, too.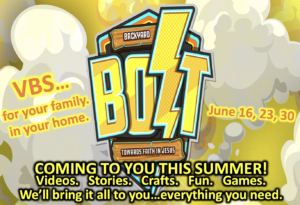 VACATION BIBLE SCHOOL

…with your family in your home.*
Email us at
newhopehutto@yahoo.com
for information and/or questions.