New Hope enjoys supporting local ministries in the Hutto area as we see the needs and are able to assist.
We love offering care, help, and guidance to local school children as we serve to mentor them.
We seek to assist in a variety of ways to care for and support the students and teachers of local schools.
We participate in community events during the year.
Carmel Creek Senior Center
We enjoy serving others and sharing God's love through many ways.
Our Missions Team is always researching and evaluating local ministries
and opportunities for us to support. 17 Percent of our Monthly Offerings go to local
and world missions and benevolence. Our main emphasis is carrying the Gospel while being the hands and feet of Jesus.
New Hope Christian Church actively participates in community events and provides support during the year for many who are in need as a church ministry.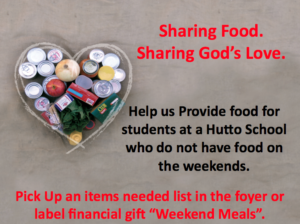 WEEKEND MEALS FOR HUTTO ISD STUDENTS
We are helping to feed up to 30 students & siblings on the weekends. Please bring the following items to the church and place in the collection bin. If you would rather give a financial donation, label gift as "Weekend Meals", and we'll purchase the needed items.
Thank You for sharing food & Sharing God's Love! (All items need to be Non-Refrigerated Dry Goods & individually packaged in easy-open or pop-top containers as homes may not have can openers.)
__Canned Food / Soup
__Canned Raviolis, Spaghettio's, etc.
__Individual Mac & Cheese Serving Containers
__Packages of Cheese or Peanut Butter Crackers
__Granola or Fruit Bars
__Individual Serving Boxes of Cereal
__Vienna Sausages
__Fruit Snacks
__Ramen Packages
__Bags of Microwave Popcorn
Contact Michael.Roepke@newhopehutto.org for Information.