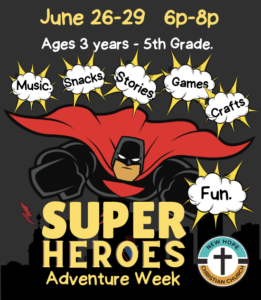 Register Today for our Week of Adventure with your favorite Superheroes.
We'll have our favorite Superheroes like Captain America, the Hulk, Spiderman etc. talk to us about how we can be SuperHeroes for God by looking at God's Superheroes in the Bible.
Isaiah 40:29, "He gives power to the weak and strength to the powerless."
JUNE 26-29
It will be a highlight of your Summer!

Ages 3 years – 5th Grade. 6p-8p.
(Children will be placed in coordinating groups by age/grade level.)
T-shirts
ensured if signed up by June 8th. After that date, we will make an attempt for the next 25.
Let's get ready for an amazing week in the Kingdom as we learn about being a Superhero
through Jammin' Music, Great Stories, Snacks, Crafts, Recreation, and Tons Of Fun.
We'll also have A LOT OF GIVEAWAYS EACH NIGHT.

On Thursday, June 29 at 7:30p, we'll have a fun Family Party and Movie-DInner Night.

Click Here to Fill out our Registration Form to sign up & receive your free t-shirt.