________________________________________________________
(Rachel, Tucker, Mykenzie, Madison)
Michael and His wife, Rachel, came to Hutto in March 2008. They love the
family that makes up New Hope Christian Church, and thoroughly enjoy
engaging with other people and families. Michael comes from a wide
background of Children's, Youth, Family and Camp Ministry as well as leading worship.
He enjoys the calling that God has placed on Him to become Pastor at New Hope.
Rachel faithfully serves alongside Michael at the church, but also works as
an Assistant Principal at an area High School.
Michael and Rachel have been married for 11 years, and have one son, Tucker, and
twin daughters, Mykenzie and Madison. They would love to get to know you and
experience the journey of this life together with you, so come visit us sometime.
Contact Michael at: Michael.Roepke@newhopehutto.org
________________________________________________________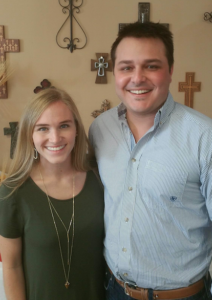 Tyler Reed,
Tyler's life began in Tennessee, but he got to Texas
quickly and grew up in Canyon Lake, Texas. He was saved in the summer of 2004 before beginning High School. Tyler soon felt called to ministry and through the encouragement and discipleship of his pastor took the first steps toward ministry leading Bible studies and serving the community while in High School.
In 2008, Tyler began college at The University of Mary Hardin-Baylor in Belton, Texas. College was a long winding road of splitting semesters between being in school and working with his father in the furniture industry to pay for school before finally graduating in 2016. While in college, Tyler interned for 5 years at Temple Bible church, summer camps, and other ministries. Tyler's other interests include cheering for his favorite sports teams, reading, being outdoors, and actively wake boarding and riding motocross.
While in College, Tyler met his amazing wife, Emily, and were married in June, 2016. Emily is currently an elementary school teacher, and at church, she loves to serve where possible, but especially with children. Tyler and Emily like to watch movies and enjoy live music together. Their lives will be blessed even more with the arrival of their first child in April, 2018.
After serving as Youth Pastor in Killeen, Texas for 18 months, Tyler and Emily were so excited to be able to come to Hutto in October, 2018 to start a new chapter in their lives and serve both New Hope and the community of Hutto. They are so thrilled to be able to pour into people's lives here through teaching the Word of God, discipling, and serving.
Contact Tyler at: Tyler.Reed@newhopehutto.org
________________________________________________________
Worship Leader
Jonathan Stege comes from a family background of church ministry and has a wide array of experience of serving in the local church in worship ministry. He has a great capability in leading worship and adds such a vital part to the worship services of New Hope. His talent and abilities in leading worship offer each worshipper the opportunity to be drawn into the Lord's presence each Sunday. Jonathan's objective in leading worship is to be the lead worshipper in the worship service and he does just that. You will be quickly engaged in worship as Jonathan leads you before the Lord with the full band and worship team.
In addition to his musical talent, Jonathan is a people person with a dynamic personality. You will definitely want to take some time and get to know Jonathan.
Contact Jonathan at: Jonathan.Stege@newhopehutto.org
________________________________________________________
SETH GIPSON, Deacon
JESSE LUCE, Deacon
KAY JOHNSON, Deaconness
SHERI GIPSON, Deaconness
CHIP LONGO, Elder
KASEY PIPKIN, Deacon
TYLER REED, Associate Pastor
MICHAEL ROEPKE, Pastor/Elder
JONATHAN STEGE, Worship Leader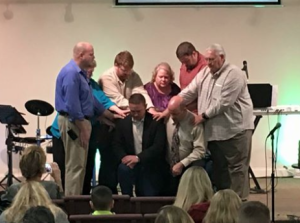 (Ordination of our Deacons.)