________________________________________________________
(Rachel, Tucker, Mykenzie, Madison)
Michael and His wife, Rachel, came to Hutto in March 2008. They love the
family that makes up New Hope Christian Church, and thoroughly enjoy
engaging with other people and families. Michael comes from a wide
background of Children's, Youth, Family and Camp Ministry as well as leading worship.
He enjoys the calling that God has placed on Him to be Pastor at New Hope.
Rachel faithfully serves alongside Michael at the church, but also works as
an Assistant Principal at an area High School.
Michael and Rachel have been married for 11 years, and have one son, Tucker, and
twin daughters, Mykenzie and Madison. They would love to get to know you and
experience the journey of this life together with you, so come visit us sometime.
Contact Michael at: Michael.Roepke@newhopehutto.org
________________________________________________________
Pastoral Position currently open.
Please pray as God leads us during the process.
________________________________________________________
Worship Leader
Jonathan Stege comes from a family background of church ministry and has a wide array of experience of serving in the local church in worship ministry. He has a great capability in leading worship and adds such a vital part to the worship services of New Hope. His talent and abilities in leading worship offer each worshipper the opportunity to be drawn into the Lord's presence each Sunday. Jonathan's objective in leading worship is to be the lead worshipper in the worship service and he does just that. You will be quickly engaged in worship as Jonathan leads you before the Lord with the full band and worship team.
In addition to his musical talent, Jonathan is a people person with a dynamic personality. You will definitely want to take some time and get to know Jonathan.
Contact Jonathan at: Jonathan.Stege@newhopehutto.org
________________________________________________________
MICHAEL ROEPKE, Pastor/Elder
JONATHAN STEGE, Worship Leader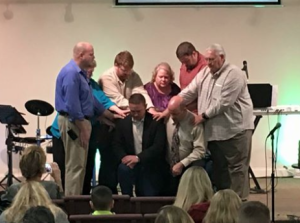 (Ordination of our Deacons.)