_________________________________________________________
Our Church Home…
HOME is a special place—where you live, share life with family, where you grow, laugh, and cry. Home is a place you long to be and where you belong. At New Hope, you will find your church "Home". You will feel a warm welcome and find New Hope as a place for growth in God and in relationships with each other.
Acts 2:42-47, "They devoted themselves to the apostles' teaching and to fellowship, to the
breaking of bread and to prayer. Everyone was filled with awe at the many wonders and signs performed by the apostles. All the believers were together and had everything in common. They sold property and possessions to give to anyone who had need. Every day they continued to
meet together in the temple courts. They broke bread in their homes and ate together with glad and sincere hearts, praising God and enjoying the favor of all the people. And the Lord added to their number daily those who were being saved."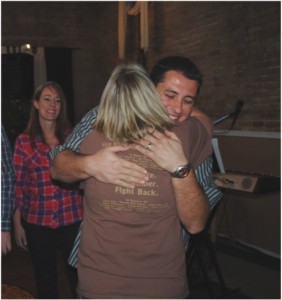 _________________________________________________________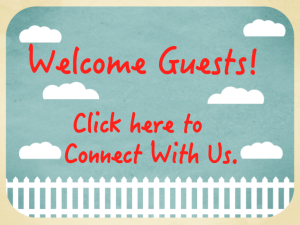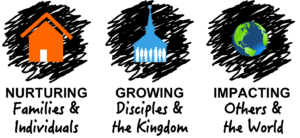 _
___________________________________________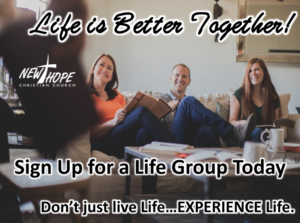 Life Groups Available on Sundays, Tuesdays, and Fridays.

Sign Up in the foyer or email us at information@newhopehutto.org. If one of these days is not good for you, let us know. As interest grows, new groups will form.
LIFE GROUPS…SIGN UP FOR A GROUP.
The early church wasn't just a gathering at a church, but they grew in the Lord together by building relationships together. They shared together, studied together, worshipped together, celebrated communion together, ate together, and did life together. That's what we want for our church families…to know that Life is Better Together. We want you to share life with others at church, in homes, at restaurants, football games, etc.
Don't just live Life…
Experience Life Together with your church family.
We believe the early church had the correct pattern for growing in the Lord. While we still currently offer Studies at church, we feel that smaller groups gathered informally around the table or couch really enable people to share together, go deeper, and grow in the Lord together more freely. Plus, our desire is that lifelong friendships would develop and help people navigate life's journey together.
________________________________________________________________________
Sundays


9am / Coffee & Chat

(pastries available)


9:30am / Studies & Groups for all ages*
10:40am / Worship & KidsClub*
(*nursery & toddler class available)

5pm / Youth Group Gathering
Life Groups & Other Events Weekly
See areas on website or Facebook for Events / Studies.
________________________________________________________________________